Residential Garden Log Cabins – At Loghouse, we can provide a wide range of garden log cabins that will be perfect for any needs – but perhaps you're wondering if a garden log cabin is right for you.
The garden log cabin has become increasingly popular over the last few years due to its relatively low cost, ease of assembly, and low-maintenance design. It also provides an environmentally friendly alternative to traditional housing options as it is naturally insulated. Moreover, our log cabins are built from renewable Scandinavian Pine.
What is a Garden Log Cabin?
The garden log cabin is a building that can be used for multiple purposes, including a residential space complete with bedrooms and other facilities. You can also find log cabins used as home offices, home art studios, gyms, rooms for crafting, and much more.
Please don't confuse them with American-style cabins in the woods. In Ireland, modern and contemporary log cabins are much more like a home-from-home, and you don't have to get lost in the wilderness to take advantage of them.
Our Residential Garden Log Cabins
Available in a range of standard sizes, our log cabins have between one and four bedrooms. Of course, you don't have to stick to the standard size or layout – we are equally happy to create the log cabin of your dreams, and everything is customisable to the requirements of our customers.
We offer turnkey log cabin packages, which simply means that you tell us what you want, and we take care of everything for you. This includes design, manufacture, and installation, so all you need to do is sit back and watch us take action!
Do Log Cabins Need Planning Permission?
Smaller log cabins within the bounds of a backyard or garden don't always need planning permission. Still, larger residential buildings will most likely need both planning permission for a log cabin and approval that the finished building meets all appropriate regulations.
Always check with the local authority to precisely what permissions you need before beginning construction of any kind.
What's Inside?
When looking at our standard residential log cabins, the interior layout will vary depending on the size and overall design of the cabin. Our Sandyford log cabin is 5m by 5.7m and incorporates an ample living space alongside two bedrooms.
In contrast, our one bed Type D log cabin is slightly larger and has space for a kitchen area and shower room/WC. At the larger end of the scale, our four-bed Type A cabin offers a larger kitchen/dining area, four bedrooms, a separate bathroom, and a decked area to the front – while our four-bed contemporary log cabin measures over 14m x 12m and lets light flood in with a range of windows and seating areas.
In short, everything you could want can be found within our log cabins, including a connection to mains electricity and water. You can have heating, lighting, and even internet access – when we say residential, we really do mean you can live in there!
When a garden log cabin can essentially replicate the interior of a home, you know it is the ideal choice. With customisation options available, it makes it an even better decision.
Once the garden log cabin is built, the interior can quickly take shape. It's not just a matter of adding furniture – you can paint the walls, install laminate flooring, and so on. The finish can be very high quality with kitchen and bathroom areas featuring worksurfaces and furniture/appliances as you would expect in a home.
What's Outside?
The first thing you'll notice from the exterior of a garden log cabin will be the walls. They can be stained, painted, or even varnished. You can pick the colour and truly make it match your own style.
With an outside decking area (or porch), you'll also need to consider what you want to do with the floor – will it match or contrast with the walls?
Of course, the wood isn't the only item to look at. Windows and glazed doors are commonly found in a garden log cabin, and the frames may also require a touch of colour.
Depending on your choices, the roof might be made from shingles, metal, or another material, but one thing is for sure – your log cabin will look great from every angle.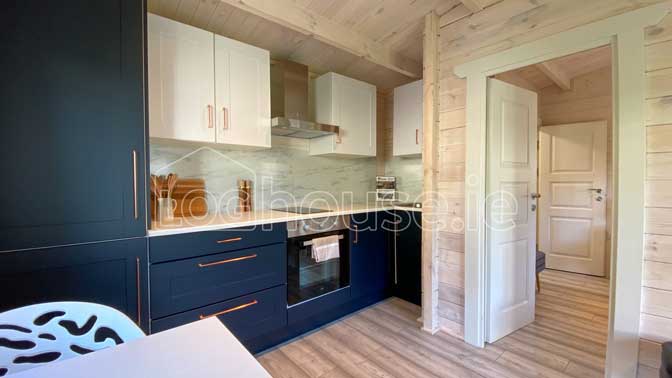 What Are the Benefits of a Garden Log Cabin?
The way in which garden log cabins are constructed means there are many benefits. They are economical to heat as timber is naturally breathable, allowing heat to be retained in cold weather and keeping heat outside in hot weather.
Roof and floor insulation are also available to aid in keeping the interior at the right temperature.
A further benefit is that the construction cost is lower than a brick building, but you won't be sacrificing any functionality. In fact, a log cabin can be more functional than a brick building due to its flexibility in design.
The garden log cabin is a popular choice, and there are many reasons why they have become so popular. It's down to creating a design that can blend into any garden or other surrounding area.
A well-designed and well-built log cabin can fit into any location. They add an extra dimension of luxury and beauty at the same time as letting you make use of space, indoors or outdoors.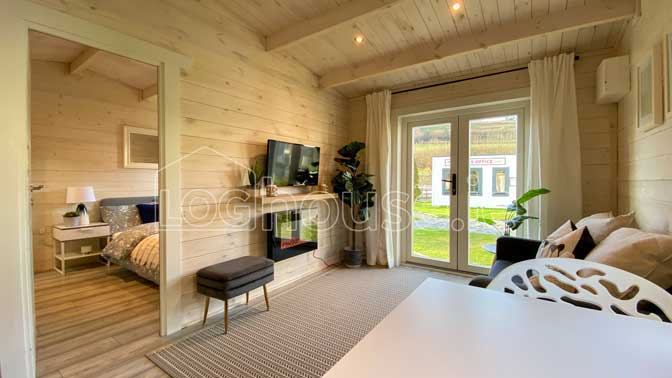 Residential Garden Log Cabins from Loghouse
At Loghouse, we offer you the option of having your own custom design or choosing from our pre-made designs. Whether it's a single cabin you want or multiple cabins for a residential project, we're happy to help.
We can assist with every aspect of building a log cabin from the foundations upwards. Designing your perfect garden room log cabin is easy with help from Loghouse's team of experts in architecture, engineering, and construction management, who will guide you through every step of the process to ensure you get the best possible outcome for your dream garden log cabin.
We can incorporate garden log cabins into any garden or exterior space you have, whether it is your garden, backyard, or even a construction site, caravan site, or open field.
Our team members are on hand to answer any questions you may have, so please get in touch if you have any queries about having a garden log cabin built for residential use.
————————————————-
Living in Cork and looking for Log Cabins for sale in Cork ? – You'll find the log cabins Cork residents recommend in the Loghouse showroom at Hanley's of Cork. Visit Us Today