Quick Navigation
Do you love art? Do you wish you could do more of it but don't have the space to spare in your home? Choosing Loghouse to build a home art studio in your garden may be the solution you need!
Of course, the building itself is just part of the puzzle – how do you create a space that inspires you to creativity every single day? Let us help you to create your very own home art studio with everything you need to express yourself artistically.
What should be included in an art studio?
Every home art studio should have a space conducive to creativity. It should be well lit and welcoming for you to feel comfortable in, including having ample space for your work. Also, as an artist, you should never be without inspiration. Therefore, it is imperative to surround yourself with things you find beautiful, like art books or easy-to-access reference material about your medium of choice.
Many people find it helpful to have their favourite album playing in the background, so a sound system can be crucial. Ensuring your home art studio is connected to the internet can be vital as many people have now forsaken physical albums and rely on streaming services instead. If you use a computer for your art, you may also need this connection for software updates, downloading digital brushes, or sharing your work.
Even with a home art studio in your garden, fresh flowers on the table can make you feel more creative and productive. However, none of this covers the equipment you may actually need to create your art.
Storage is a crucial factor, for whether you work with paint, clay, or other physical materials, you'll need somewhere to store it all. This may be a freestanding cupboard or storage space built into the walls of the home art studio.
Some people prefer to use their home art studio as an area for relaxing and reading rather than creating, so make sure you have space for both purposes – also, consider the lighting required for reading, as it will most likely need to be different from the lighting you need to create art under.
Ideally, your art studio should include a space to get cleaned up afterwards. Incorporating a kitchen area into the design for your home art studio will pay dividends, as not only can you clean up quickly, you can also make a warm drink whenever you want one.
What is a good size for an art studio?
Different home art studios will have different needs, so there is no set answer as to what the perfect size should be – it's all up to you! That said, you will need to ensure there is enough space for your particular type of art.
If you work on canvas, you'll need space to set up comfortably, along with space for a seat. When you have multiple paintings on the go simultaneously, each will need space, and you'll also need space for the canvas to sit while it dries.
If you're using a computer, you'll need space for a desk. For those who want to relax and read, you'll also need space for a comfortable chair and perhaps a table to hold a cup (and some snacks).
The smallest size you will most likely want to consider will be 3m x 2m, but the upper limit is only constrained by the amount of space you'll need to fit in all your work comfortably. Remember that a home art studio that has been built in your garden will have windows and doors that open into the area around you, so no matter what size you choose, you'll have the option of expanding your space into nature.
How do you layout an art studio?
The home art studio is your space to create, so think carefully about what will work best for you. This room should be a comfortable environment that helps you express yourself artistically, so keeping all your materials within easy reach is essential.
Some people prefer walls with artwork on them or many shelves filled with materials. Others may choose to work in the corner of the home art studio with limited space so that they can concentrate on their creation without distraction.
It's up to you, your taste, and what you know works well for your creative process. How do you organize a small art studio? In any way that you want!
In any kind of studio, whether it is a home art studio or a large professional setting, the studio must be arranged how you need it to be. If you paint and want all your colours on shelves in order, you can do it – but if you prefer a mixture of colours all pushed together and to use the one that catches your eye, do that instead. Everyone has a different way of working, so it makes sense that the studio is laid out just how you want.
How can I decorate my home art room?
When you choose Loghouse to create a home art studio, you can decorate it in any way you prefer. The interior can be painted, kitchen areas can be tiled, and laminate flooring is a common choice.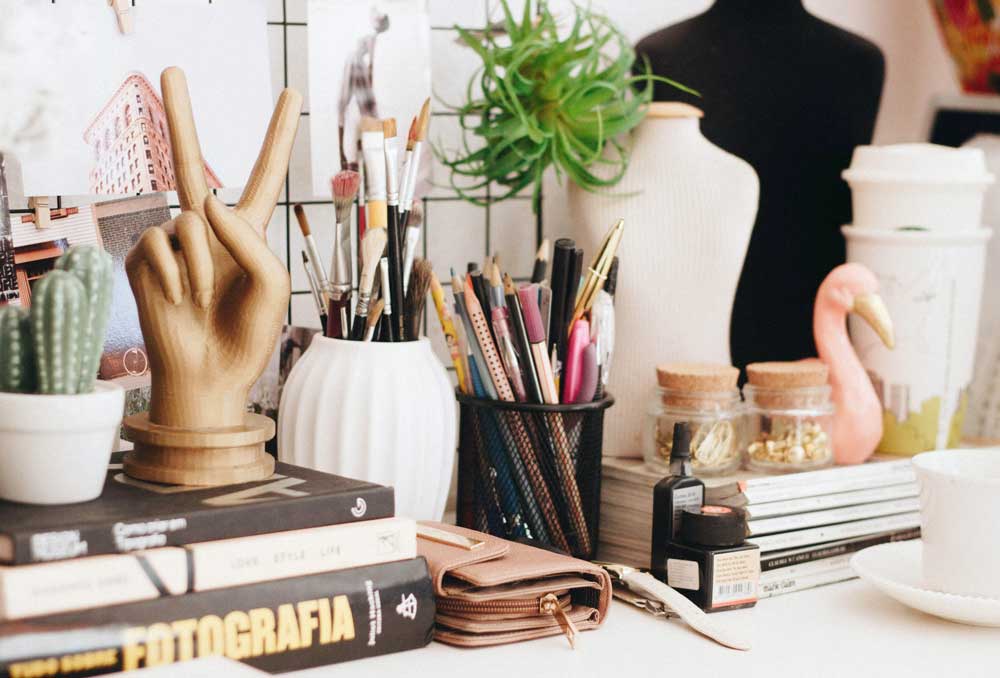 What is the best colour for a home art studio?
The home art studio should be a place where you can express yourself, so the best colour for your home art studio will depend on what colours work well with your personality. There is psychology at works in colours, so you might want to use bright and bold colours if you create exciting artwork.
You might also want to consider the mood you're trying to create – a home art studio designed for creative ideas may be filled with "happy" colours. If your artwork varies, perhaps choose more neutral tones, and use accessories such as vases and ornaments to add a splash of colour – and change them as the mood takes you.
What does every art room need?
Quite simply, every home art studio just needs some space and an artist. When you have the dedicated space to be creatively free, there is no limit on the art that you can create.
Working at home – check out our latest blog for the full run-down on –
Renting An Office Vs Building A Garden Office