Quick Navigation
When you're considering rooms for gardens, one of the most popular uses is as a home office – or rather, a garden office. There are many advantages to moving your working life outside, but it is easy to become overwhelmed by the options available – do you know exactly what you need from a garden office? Where to build it? How big it needs to be?
Here are our expert tips on buying a garden office to make sure you get the maximum benefits from your rooms for gardens choice, helping you make the right decisions before you begin the project.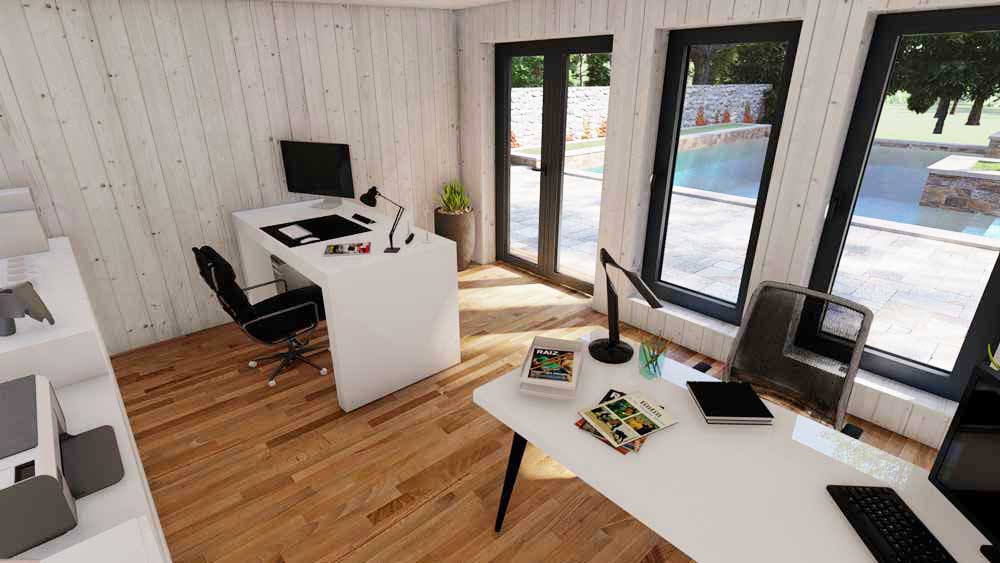 Rooms For Gardens – Choose the Right Size…
A home office eco garden room can be built in a size that suits you, be it small and compact or large and spacious. It's important to choose the right size for your needs, and for the space you have available. If you need several desks or workspaces, choosing larger rooms for gardens will work better.
However, if the space you have available is limited, you might do better by choosing a smaller garden room and being creative with the interior layout. A further factor to consider is the need for planning permission. Different areas may have local rules in place, so it is always advisable to check the requirements with each local authority. As a rule, planning permission is not usually required in Ireland for any building under 25 square metres in size and less than 3.9m high that is built to the side or rear of your house.
This means that the Loghouse Eco Garden Room that measures 6m x 4m will not need planning permission in most areas – should planning permission be required, our expert team are here help you with the advice to obtain the permissions that you need.
…and Location
Gardens can be long, narrow, wide, square, oddly shaped…no two gardens are identical. Consider all points in your garden before deciding on a final location for your home office. Rooms for gardens can block views and cause inconvenience in the wrong place, but equally can use an area of your garden that has so far been neglected.
Perhaps you have a corner of your garden that you haven't found a use for, or your garden is oddly shaped and you're not quite sure what to do with certain spaces. Would you be able to build a home office in one of those spaces? Does it provide a good view of the rest of the garden without obscuring the view from elsewhere? You may have just found the ideal spot!
Choose the Right Material
Rooms for gardens can be built from wood, brick, metal, or even plastic – but which is best? While each material has its merits, wood is often considered the best choice. Timber looks great and helps to promote feelings of calm, and it is also a breathable material. With the addition of insulation, you'll find that a garden office that is built from timber will often remain at a pleasant temperature on the hottest days, and will keep warmer than buildings made from other materials during the depth of winter.
And of course, it's not just any wood that is suitable for building rooms for gardens. At Loghouse, we only use sustainable eco-friendly timber that is carefully shaped and sized. Our garden rooms are built solidly and sealed to protect against the weather, ensuring that they will stand the test of time.
With a 10-year structural guarantee, our timber buildings need minimal maintenance which allows you to get on with simply using the space rather than having to worry about what you need to do to it next.
Make Sure Your Garden Room Can Be Delivered
Getting to your front door may be easy but getting rooms for gardens actually into the garden can pose a few logistical issues, even when the building is split into sections. If there isn't clear access to the rear of your home, you may need to talk with your neighbours to arrange access.
Certain locations may also need parts of the building to be delivered via the use of a crane. It is important to discuss access details with the supplier of your garden room home office before committing to purchasing a building that you'll never be able to have delivered, let alone use.
The Benefits of Rooms for Gardens
Setting up an office in your garden has multiple benefits, especially since the beginning of the coronavirus pandemic. Working from home helps to protect you from exposure to other people, keeping you (and others) safe from COVID-19 exposure.
In an air-conditioned office with multiple people present, it would be easy to spread the disease, but working in your own office at home will minimize any such problems. Many have found that productivity increases when working from home, and having a beautiful home office to work from will further enhance your productivity.
Aside from that, you'll save time and money with a home office in your back garden. You won't need to commute and will therefore save money that would usually be spent on fuel or public transport, and you can be in your office within a few seconds of leaving home – no more travelling for hours every week.
You could work from a room in your home, or build an extension to your home instead, but a separate building is a better option. Your work items won't get mixed up with everything else in the house, and once you've finished for the day, it's a dedicated space that can be shut off until you need to start work again.
Rooms for Gardens From Loghouse
If you're considering working from home for the long term, please get in touch to find out more about our rooms for gardens. We can create custom designs to match your needs and requirements, and you can always be assured of the quality of the finished product.
From design to delivery and installation, Loghouse Garden Rooms provides a complete service whenever you need extra space to work at home.
Running a business from your Home Office and need to communicate with your customers – check out our 5 Tips to easily broadcast online from your Eco Garden Room Home Office or Studio post