Quick Navigation
Going away for a holiday to an exotic destination might be something you enjoy, or perhaps you prefer a day trip to the beach. A garden room log cabin might have been the furthest thing from your thoughts until recently.
Since early 2020 due to the COVID-19 emergency, there have been a number of restrictions put into place related to travel, whether at home or abroad. Changes happen regularly, but for most people, it would be a much better idea to improve your home instead of getting away and topping up your tan for the foreseeable future.
What is a Garden Room?
A garden room is a room or structure within the boundaries of your home that allows you to experience being outside but with the comfort of being inside. Quite simply, it is a room or building in your garden, such as a log cabin.
You are away from the main area of your home and can experience the tranquillity of your garden. With the option of multiple rooms, you can perform any task you desire in your garden room, from sitting and relaxing to reading and studying, or even napping or enjoying a hobby.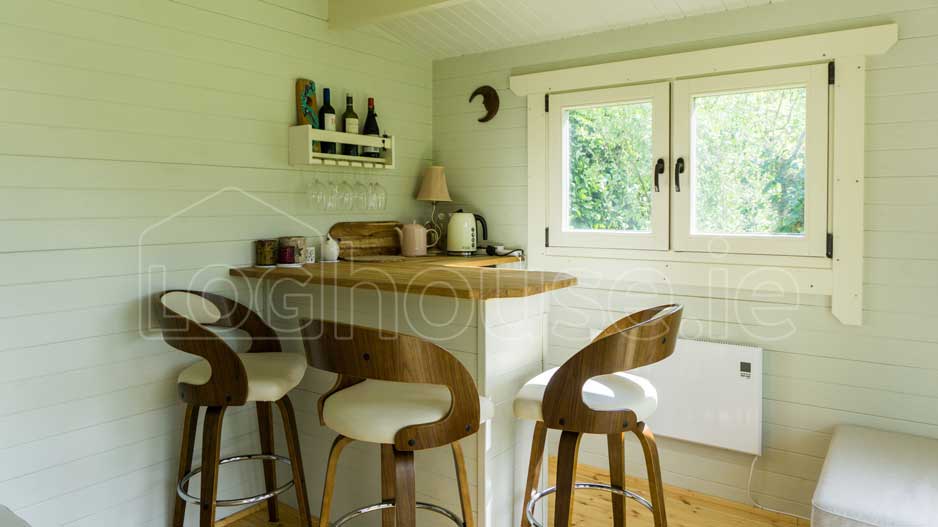 What are the Benefits of a Log Cabin Garden Room?
There are several benefits to a log cabin garden room, not the least of which is being able to design the cabin to fit the space you have, and to incorporate an interior layout that matches your needs. Log cabins can be connected to mains supplies, so you can have heating (or cooling), water, and electricity.
This means you can have a fridge in your cabin, or even a complete bathroom and kitchen. Enjoying sitting in the sun and want a cold drink? It is simple with a log cabin. Have you become a little too warm? Take a shower in the cabin in your garden.
There are also physical benefits to using a log cabin as your garden room. The cabins from Loghouse are all built from sustainable pine and are fully sealed to prolong their life and prevent leaks. While you may think this would make it unbearably hot in summer, wood is a breathable material that allows heat and moisture to pass in and out of the building with ease.
The net result is that your garden room will be cool in summer and will retain heat in winter.
Why Investing in a Garden Room is Better Than a Vacation
From a short break to a two-week summer holiday, it's a common practice to take time away from the home at some point during the year. Aside from the difficulties that you may face at the moment, there are normally two problems people face with taking a break.
First, it is only for a short amount of time. You go away, have some fun, and make a few memories, but in the end, it is only the memories that remain. Your holiday is never quite long enough.
Second, it can seem that your holiday has been too long – at the same time! There is nothing like coming back home, sleeping in your own bed, and relaxing in your own home.
A log cabin garden room solves both of these problems as it is there all year round. If you want a break from "home", you can head out to the garden room. You can come back inside whenever you want and sleep in your own bed – or perhaps, include a bedroom as an addition to your garden room.
There is no packing, no passports to worry about, no tickets to arrange, and your garden room is there and waiting whenever you want to use it. And of course, you can get a tan sitting in your garden – remember, the weather isn't guaranteed wherever you may choose to go in the world, and the home comforts can always make up for a rainy summer.
Many people find that sitting in their garden room during a rainstorm can be a beautiful experience, with the smell of the wet ground creating a wonderful backdrop to an afternoon of relaxation.
Creating Your Ultimate Garden Room
As with any room in your home, a log cabin garden room can be used in any way that you choose. Standard designs are available, but we also have a complete design team at Loghouse who are ready to work with you on every detail.
If you do just want somewhere to sit and relax, we can provide a solution for you – but if you want something with more options, we can help with that too.
Kitchens, dining areas, bathrooms, shower rooms, the possibilities are open for you to create a space you can truly enjoy. Your garden room can also be decorated both inside and out to match your individual requirements, too. You can decorate the interior of your log cabin garden room just as you want it, and it is as simple as decorating any other room in your home.
Adding your own personal design touches is the perfect way to finish off your garden room.
Choose Loghouse for Your Garden Room
When creating the perfect garden room log cabin, experience matters. At Loghouse, we have plenty of experience with all kinds of log cabin. We have supplied and erected thousands of log cabins across Ireland, and yours could be next. Check out for yourself our fantastic Log House customer reviews
With everything from home offices to playrooms, we know what works and what is expected in a garden room. Our team of professionals can help you with every aspect of your garden room, from the planning stage to the final finished product, and we are certain that you will gain years of benefit from your own log cabin.
There is no better time to improve your home than now, and there's no better way of improving it than with a log cabin garden room from Loghouse. The tan might have to wait until next year, but the garden room can be built right now!