With a proliferation of modern materials available to construct buildings from, you may be wondering if timber is a good choice. After all, protecting the environment is a high priority and using natural resources such as trees may seem counterintuitive.
However, we use sustainable Scandinavian pine for our log cabin construction, and all our timber is certified by the Forest Stewardship Council (FSC). Not only is the timber source sustainable, but the impact on the environment of using a natural material for construction is actually lower than manufacturing a product such as plastic.
Scandinavian timber grows in sub-zero temperatures, therefore it grows a lot slower, making the timber much stronger. Scandinavian pine is therefore well-known for its strength and durability and we use every part of the timber during the construction process. Offcuts are used in other manufacturing processes and even the sawdust that is generated is turned into wood pellets for use in stoves.
Your log cabin is created from start to end by Loghouse, which means there is no reliance on outside suppliers. This allows us to have the most efficient log cabin construction process possible and enables us to serve our customers effectively.
Are log homes a good investment?
Log homes are a great investment no matter what you choose to use them for. Building an extension to your home, opening an office, or even joining a gym will all have a cost associated with them. Using a log house for any of these purposes is a cost-effective choice.
A log home is a permanent building that is constructed on your own land. You'll own it and won't have to run to the expense of a brick extension or finding somewhere to work/play/relax. It is convenient and can be used as frequently as you want to at no extra cost.
Log homes won't go out of fashion and are energy-efficient, which means savings all round. Should you choose to sell your home along with the log cabin at a later date, the value of your home will be increased due to the extra space that is available to use within the log cabin.
Offering far more flexibility and appeal than a garage or conservatory, a log home is always a good investment.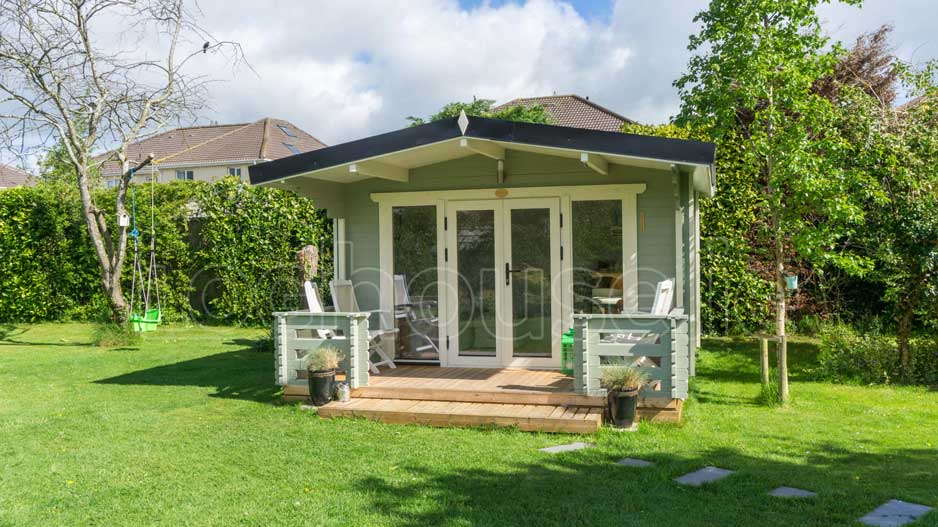 What is the lifespan of a log cabin?
Loghouse log cabins are provided with a 10-year structural guarantee, but if looked after well you'll find that your log cabin can last a lot longer than that. We are proud of the quality of our log cabin construction process, and our cabins are built with damp proof membranes and extra sealant to protect the cabin itself and everything inside of it.
This means that the longevity of the cabin is enhanced right from the start, and it is common for log cabins to last between 20 and 50 years. However, with care and attention, it's not unknown for cabins to last a century or more.
Are log cabin homes high maintenance?
Loghouse Log cabin homes are not high maintenance at all but will require some maintenance to keep them in top condition. Dealing with any problems as they arise (such as leaks in your plumbing will help to keep your cabin in good order, but standard maintenance is minimal.
Simple tasks such as ensuring any guttering is free from blockages, checking the roof for damage, and applying a coat of paint/varnish to the exterior regularly will keep your log cabin in good order.
Do log homes hold their value?
Log homes hold their value if they are looked after and if the initial log cabin construction was of a good standard. All Loghouse log homes are built to exacting standards which means that we do everything we can to ensure that your log cabin will hold its value.
As an extension to your living space in your home, the value of your log home may be affected by trends in the local housing market, but a log home will always add value to your property. If it is tastefully decorated and provides a space for an activity, you can be certain that your log home will hold its value and potentially increase its value over time.
Looking to Decorate your Log Home ? Have you read our latest article :
How do you decorate a rustic cabin? Decorating Ideas for Log Cabins