Residential log cabins can change your life for the better in many ways, but you might still be undecided on whether you should buy one or not. You know log cabins have multiple potential uses, but is a wooden building ideal for you?
Here are 7 reasons to buy a log cabin that might just help you to make a decision.
1. A Place to Escape
With all the hustle and bustle of modern life everyone needs a place to escape to. With a residential log cabin, you can have your own space to do exactly what you want.
Built to your specification and decorated as you choose, you can chill out in your garden, relax in the bedroom, or just watch TV – don't forget, log cabins can be connected to mains utilities, so there's no problem getting heating, lighting, or any electrical devices working.
Plumbing is also a possibility, so if you want to create a bathroom you can retreat to at a moment's notice for a long luxurious soak, a residential log cabin may be just what you are looking for.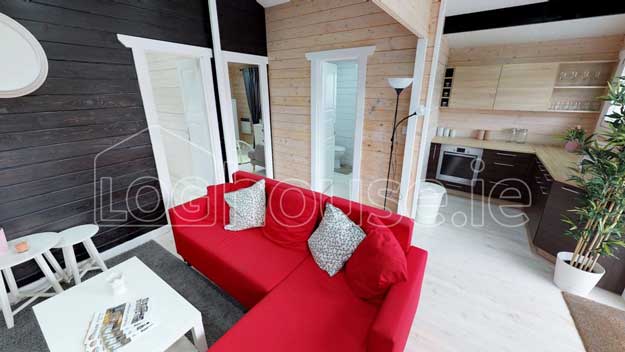 2. Environmentally Friendly and Energy Efficient
You may have considered an extension to your home or some other kind of building, but none will be as environmentally sound as a residential log cabin. Built from renewable Scandinavian pine, our log cabins are highly energy efficient.
They'll be warm and retain heat well when you need them to be, and you can cool down in warmer weather. The environmental impact of building a log cabin is low due to it being made from natural materials, and the inherent properties of these materials make it a great choice for those who care about the environment going into the future.
3. Space for Family
While a Loghouse residential log cabin can be used as a break-out space for day to day family life, with the option of multiple bedrooms you'll find it is a great place for people to stay when they come to visit.
Alternatively, there may be elderly relatives who live on their own and might appreciate being closer to the family. Residential log cabins are self-contained buildings and ideal to live in. There are no stairs to get up and down, and all the facilities you would expect in a house are available.
The log cabin can even be custom designed to suit the needs of anyone using the building, for example wider doors, ramps, etc. Why not install a system to communicate with the main house in case of an emergency?
Whatever you can imagine, our design team can turn it into a reality.
4. Residential Log Cabins Are Versatile
Another factor that is related to the design of your residential log cabin is the flexibility it can offer. As well as a room for the family, a place to stay for visitors or relatives, and a number of other uses, it can also become a place to be creative – perhaps you can use a log cabin as an art studio or an office to work at home from.
In the simplest terms, residential log cabins are an extension to the space available in your own home, and whatever you would use an extra room or two for can also be done in a log cabin. From working to entertaining, from sleeping to learning a new skill, you can do anything you want in a residential log cabin.
Our experienced design team will be able to help with your requirements should any of our standard log cabins not match your exact needs.
5. A Real Home from Home
One of the key aspects to a residential log cabin is the ability to decorate the interior in any way you choose. Flooring can be installed in exactly the same way as in your home, and the walls can be decorated however you like.
By the time the decoration is finished, you might struggle to tell the difference between the interior of a log cabin and the interior of a traditional home.
As you can include bathrooms and kitchens in your log cabin with connection to mains water and electric, it truly does turn the building into a real home from home – you may even find that you prefer to spend time in your log cabin rather than your original home!
6. Log Cabins Are Easy to Maintain
Scandinavian pine wood is one of the toughest and longest-lasting materials for building a residential log cabin from. Because of these natural properties, you'll find that there is very little need for maintenance with a log cabin.
Should any exterior work need to be completed, it is much easier to access all parts of a log cabin than it is a traditional home. The height is often considerably lower, and any repair work can be completed quickly and easily, often without the need for any specialist equipment.
All of our log cabins come with a 10-year guarantee so you can be sure that your residential log cabin is going to stand the test of time and give you years of enjoyment.
7. A Long Term Investment
As you might imagine, with a 10-year guarantee on offer we expect our log cabins to remain standing and in good condition for an extended period. We build cabins from high quality materials and concentrate on craftsmanship to produce an end result that can't be beaten.
Your residential log cabin is simply built to last, so the longevity should certainly be a factor in your decision to purchase one. Unlike other wooden constructions you may have had in your garden in the past, residential log cabins are solid buildings designed to be lived in.
In many ways, they are simply small houses that happen to be built from timber, which means that if you take care of the building it could last a lifetime.
Isn't it time you decided that building a residential log cabin is the right choice for you? – Contact Log house today to start your project and change your family's life.