Quick Navigation
Log cabin insurance is something that you probably would never consider investigating until you actually owned (or were planning to own) a log cabin. However, once you are ready to make the investment, log cabin insurance suddenly becomes one of the most important things to have!
You will most likely already have some kind of insurance plan in place. It might be home or vehicle insurance, pet insurance, or health insurance. You pay for it yearly or monthly, and it's there as a safety net – in an ideal world, you'll never need to make an insurance claim, but it's always there just in case.
At Loghouse, we always build log cabins to very high standards, and you can be reassured by our  Loghouse 10-year structural guarantee. However, even with a guarantee like that, you should ensure that your log cabin is covered with log cabin insurance.
No manufacturers guarantee, warranty, or other documentation will protect you from accidental fire, flooding, theft, or other issues. Therefore, it is vital that you obtain log cabin insurance just in case the worst happens – and hope that you never need to use it.
Can I get insurance for my Log Cabin?
In short, yes, you can get insurance for your log cabin. Loghouse guarantees that you will be able to get insurance for any log cabin model our company has on sale, and there are a number of companies that provide such insurance. This can be fully comprehensive cover on both the structure and the contents of the log cabin.
You may be able to obtain insurance cover for your log cabin through your existing home insurance, but you might face issues due to it being a timber building. There may also be caveats in place regarding the use of separate structures or outbuildings, so it is best to check with your insurer.
Timber buildings are theoretically more susceptible to fire damage, and some insurer may consider them less secure than brick-built buildings (even if this is not the case). However, log cabin insurance should not be a problem to find, and you can obtain cover whether you use it as a home gym, a granny flat, or just a place to sit and relax.
We recommend the use of several insurance brokers who can offer best the best deal on both the structure and contents insurance. It is important to check out multiple offers of log cabin insurance, as with any insurance. Some providers will give different options, lower costs, higher levels of cover, and it is up to you to make the choice that best suits your situation.
We always provide a high level of customer service and we are ready to answer any questions you have. To get in touch with our recommended brokers, please contact us and we will pass on the contact details, giving you an outline of what is usually provided as part of the log cabin insurance cover.
This will help you to determine what the best option is for your situation and will provide you with a great price as well as peace of mind.
With non-standard home insurance, it is always worthwhile spending a little extra time getting prices from several sources. An extra 20 minutes on the phone could save you a significant amount on the cost of insurance for your log cabin.
What are the benefits of log cabin insurance?
As with any kind of insurance, the greatest benefit of insurance for log cabins is peace of mind. Nobody ever expects a disaster to happen, and rightly so – most people will never experience a disaster that requires claiming on an insurance policy.
However, if something significant did happen, you would be covered. Insurance for log cabins offers protection against accidental damage, theft, and potentially even natural disasters. If your log cabin were destroyed, knocked down, or otherwise reduced to its component parts, would you be able to afford to rebuild it? Would you be happy to go to the expense again?
Log cabin insurance means that you will not need to, and your investment is fully protected in the long term.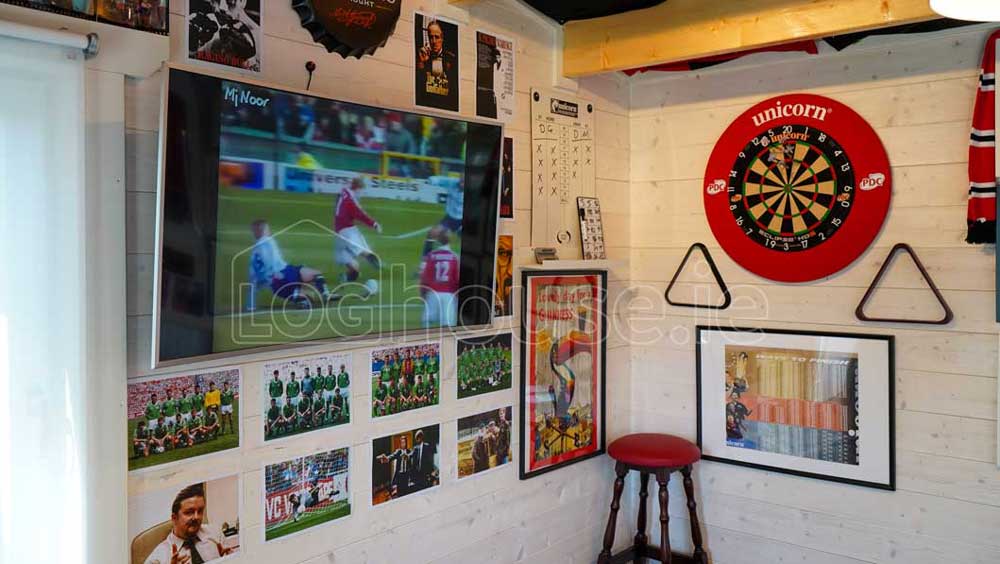 Is it more expensive to insure a log home?
This will be determined entirely by your insurance and the policy you purchase. Some things to keep in mind include the fact that the log cabin is made of timber, and so the distance from the emergency services (and ease of access) will be taken into account, possibly more so than with standard home insurance. Log cabins are not more likely to burn to the ground than any other building, but it is often a consideration that insurance companies take into account.
The rebuild cost of a log cabin will be lower than the rebuild costs of a brick-built home, and so this may balance out or even result in a quite low overall cost.
Ensure your log cabin is of good quality
A good quality log cabin will be easier to insure than a low-quality log cabin. Insurers project the potential problems that a building will face when putting together a price, and high-quality log cabins are more secure, more likely to remain standing, and are made from materials that will last.
Our log cabins projects are always built with the highest quality materials to ensure their longevity. We use tried and tested techniques and methods to erect the cabins and supply a 10-year structural guarantee for your peace of mind. Every team member is a trained professional, and you can be sure your building is in safe hands.
This will ensure that you are able to obtain competitively priced insurance for log cabins whether you choose to use our log cabin insurance brokers or otherwise. We are proud of the quality of our log cabins and we are willing to help and advise at any stage should you require further information about insurance for log cabins.
Get in touch with us today to find out more.
Check out our latest blog post if you wondering Which is best for you? Garden Room vs Conservatory !