Changing life circumstances can bring new requirements to everyday family life. As relatives age as the years go by, it has become a common practice for many families to begin building a granny flat. These spaces are for the "granny" (even if the relative isn't a granny at all) to live in to be closer to the family.
This offers the opportunity for support to be given to the person – or occasionally, the people – occupying the granny flat, negating the need for them to move into a home when they are no longer able to fully look after themselves. Even if it isn't a permanent residency, it's great for an elderly relative to know they'll have somewhere to stay when they visit that is independent of the main home.
Building a granny flat can take many forms. It can be, at its most basic, a room within the family home – but that's not a true granny flat. Realistically, granny flats need their own entrance, and preferably their own kitchen and bathroom to allow for independent living. For some, this can take the form of a garage conversion. For others, it's an annex to the existing building. However, you might not have considered the option of building a log cabin.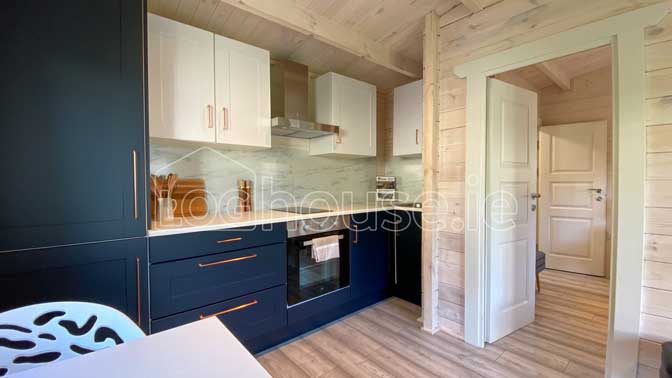 Building a Granny Flat in a Log Cabin
A log cabin from Loghouse fits the requirements of building a granny flat perfectly. Built from sustainable Scandinavian pine timber in your own garden, the size and shape of the cabin can be customized to match the space available.
One major concern for any older relative will be keeping warm during cold nights. Our log cabins are built to retain heat when its cold outside, but they constructed from breathable materials which means they won't get too hot during warmer weather.
That said, you might feel uncomfortable about moving your relative into a wooden structure in your back garden – but modern log cabins are truly a home from home. Within the building itself, interior walls divide the space into separate living areas. The cabin can be connected to mains supplies, facilitating kitchens, bathrooms, heating systems, and lighting.
As for the décor, once you are inside you might believe that you are in a log cabin. Walls and floors can be decorated and covered in any way you choose which can give the appearance of being inside a regular brick-built home.
With custom space-saving designs you can get a lot inside a log cabin and still have space to spare. The rooms can be light and airy, allowing the resident to relax and enjoy their time in their new home.
The Benefits of Building a Granny Flat
No matter how much you care for any member of your family, cost will always be a factor. Compared to other building methods, building a log cabin is a cost-effective way to create a usable and comfortable space. When you factor in how economical it is to heat such a building, you'll begin to see that a log cabin is indeed a worthwhile investment.
The convenience of having your relative live so close to your main home means they can be looked after in the best possible way, and there is no extended travel time needed to visit them. In the case of an emergency, you can be with them in seconds, but they retain a full sense of their own independence due to having their own kitchen, bathroom, and bedroom within their very own building.
Our experienced design team are happy to work with you to create a living space that works well and fits all the requirements of your resident granny, including making the building and all rooms wheelchair accessible if necessary.
Perhaps the most important benefit of creating a granny flat is independence for the resident to do as they choose. This is separate from being independent by cooking their own meals or doing their own washing – they will have been used to living in their own home where they set the rules. This applies to everything from taking your shoes off at the door to the time they go to bed or get up again.
It's true freedom when they can decide to take an afternoon nap or go to be at 7pm and not be disturbed, with neither of these conditions being a requirement – if they decide not to, they don't have to.
Building a Granny Flat Log Cabin is not Out of Reach
Despite saying log cabins are economical to run there will be an expense to having one built. The good news is that this expense can be spread across a period of time to make it much more affordable with a finance package.
Once it's paid off, it's all yours. A granny flat shows a great commitment to the other members of your family, and you don't need to be put off if you're expecting it to be too expensive.
Another objection that some people have is that a log cabin may not look so great in their garden, but there are many styles of cabin available and if you have any special requirements our design team are happy to help.
Special Requirements for Special People
We know that as people get older their needs will change and building a granny flat that is suitable for the age and abilities of the person who will live in it is important. Creating a fully customized interior may make it easier for your relative to adapt to the changes in their life.
This can include custom kitchen designs with lower worksurfaces, easily accessible cupboards, and non-slip flooring. The bathroom can feature a shower instead of a bath, or it can even be designed as a wet room to make it easier for those with limited mobility.
A Loghouse log cabin is the perfect solution for building a granny flat that matches the needs of the person who will be living in it like no other building could.
Have you read our article:  Summer log cabin retreat