Quick Navigation
Be The Envy Of All Your Friends With Your Very Own Log Cabin Pub
Taking a trip to your local pub may not feel the same as it used to, and once you are there, you will have to concern yourself with getting home again. What if you could have your very own log cabin pub right next to your home?
A home bar log cabin isn't intended to be a fully operational pub that members of the public can visit, but it is a great place to invite your family and friends to enjoy a drink or two in the comfort of your own home.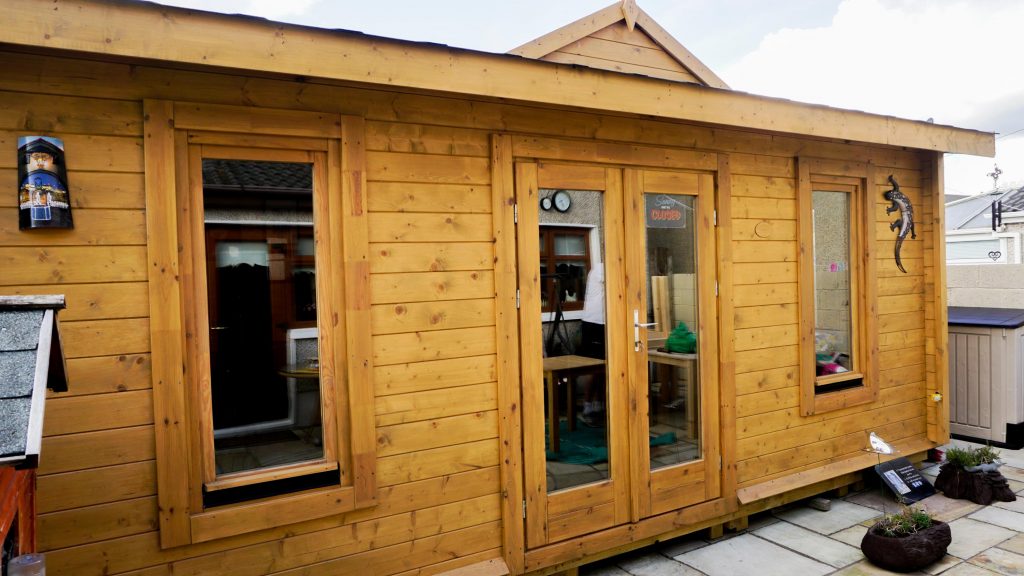 Your Log Cabin Pub – What's Your Style?
Pubs come in many different shapes, styles, and sizes. From the traditional pub with a long wooden bar and standing space or stools, to the modern hyper-slick trendy bars with chrome accents everywhere, you need to decide what you will feel most comfortable with. The great thing is that the interior design of your log cabin pub can be whatever you want it to be.
Just like any room in your home, you can decorate and style it however you want. Your home bar log cabin will suit a rustic look or a more modern theme.
The simplest way to lay out the floor space of your bar room is to choose a wall to fill with shelving and storage and place the bar a few feet in front of that. With barstools on the opposite side of the bar, your "customers" can imagine themselves to be in a real local pub. The biggest difference is they don't need to pay, and less security is needed to stop unwanted people from getting behind the bar – in most cases, everyone will want a turn at serving just for the enjoyment of it.
Your shelving can be attached directly to the wall, or you can choose to use a large cabinet or dresser. You can even have shelves built-in to really make them part of the fabric of your log cabin pub.
Pre-weathered tables can add to the ambience, and if you can obtain them, old beer barrels can become a talking point, or even become a piece of furniture. You can make your log cabin pub as relaxed or as formal as you choose, as you only have yourself to please.
Wall art, ornaments, and even signs featuring the name of your home bar log cabin can be installed to give your home bar a sense of character.
Home Bar Log Cabin Features
A log cabin in your garden is an entirely separate building to your home, and many people do not realise that log cabins can be connected to mains supplies. This means that there's water, heating, electricity, and lighting available which will give you a range of options for your log cabin pub. You can keep a well-stocked fridge running, and you can have a kitchen area to cook up something to go with the drinks.
You can also include separate space for toilets for the complete log cabin pub experience!
Mood lighting will add to the atmosphere, but perhaps one of the important points to remember is that you can install whatever flooring you choose. You might want to pick a traditional pub carpet, but just remember that vinyl and laminate flooring is much easier to clean after spills…
A home bar log cabin will easily lend itself to a rustic theme due to the building being constructed from wood. Wallcoverings can be used to completely transform the interior to provide a modern look, and with a few tasteful neon lights, you could imagine yourself sitting in a wine bar or upmarket club.
And this is the entire point of having your own home bar log cabin – just as if you were the landlord at a real pub, you can choose what it looks like, the mood you present, and make it as comfortable as you want. The benefit of not actually running a pub is that you can design it to fit your dreams and ideals, and you don't have to worry about customers staying away because of the style you chose – your friends and family are coming to see you more than they are coming to see your new rustically decorated log cabin pub, the pub just serves as a great place to facilitate a meet-up.
Birthday parties will never be the same again!
A Sound System for Your Home Bar
With a connection to the electricity supply, you can install the sound system of your choosing. This could be a few Bluetooth speakers scattered around, or traditional speakers mounted to the walls and hardwired to a hi-fi. You could even install a jukebox for that real pub experience in your man cave.
A log cabin is a flexible space that you can do almost anything with, and the expert team at Loghouse can create custom designs for a cabin that meets your requirements perfectly for everything – including everything from a kitchen to individual booths for you to sit in and enjoy your home bar log cabin.
Why Choose a Loghouse Log Cabin Pub?
Every log cabin created by Loghouse is of exceptional quality and built to last. At every stage of the construction, care is taken to ensure that the final building will be as good as possible, including the use of extra sealant to protect the interior and exterior of the building.
Because wood is a breathable material, the temperature inside the log cabin is comfortable and there is often little need for heating or cooling. The log cabin will retain warmth in winter and stay cool in summer, and the wood used for the construction is environmentally friendly.
Our log cabins are built from sustainable Scandinavian pine, and all offcuts are recycled or reused for a different part of the log cabin construction process. We also offer a 10-year guarantee on all our log cabins so you'll have peace of mind knowing that your log cabin pub will stand the test of time.
Home Office Rooms for Gardens are super popular – check out our Tips for buying one !