Budget garden ideas – Spending time in your garden can be relaxing and therapeutic, but if your garden is looking a bit tired, it can be a less pleasant experience. Not everyone wants to invest a large amount in sprucing up their garden, so budget garden ideas are useful for getting the most for your money.
There are some easy and cheap ways to make your garden look fantastic without spending a lot of money. Here are 10 budget garden ideas to get you started:
1. Start with a clean slate
If your garden looks messy, the first step is to clear away any dead leaves and debris. This will immediately make your garden look neater and more cared for.
Weeding is also important, as overgrown gardens can look neglected. You don't need to spend hours on this, but taking care of the weeds will make a big difference.
2. Add some colour – Budget garden ideas
One of the easiest ways to add interest to your garden is to plant some flowers. You don't need to buy expensive plants, as plenty of budget-friendly options are available. It's even possible to ask friends, family, or neighbours for cuttings of plants you like – or perhaps even whole plants.
Flowers can really make a garden pop, so choose flowers that will bloom at different times of the year. Your garden will always have some colour. Annuals are a good choice for this, as they only last one season, but they will keep your garden looking good all year round.
3. Create focal points
Focal points are an important part of garden design, as they help draw the eye and add interest. A water feature is a classic focal point, and they don't cost the earth.
If you don't want to install a water feature, other budget garden ideas include using statues or sculptures or even just placing some large rocks in your garden.
4. Mow your lawn regularly and edge it neatly
This will make your garden look well-tended and give it a neater appearance. You could even add some patterns to your lawn for extra interest if you have time.
With a tidy lawn and garden, a focal point, and plenty of colours, you're on your way to creating a beautiful area by only using budget garden ideas. However, there's plenty more you can do to make your garden more attractive and useful.
5. Add some lighting – Budget garden ideas
Lighting can greatly impact your garden, especially if you use solar lights. You can place them along pathways or in flower beds to create a lovely ambience in your garden.
The cost of solar lighting has dropped significantly in recent years, making them a budget-friendly option.
6. Use your garden room
A garden room is a fantastic addition to any garden, but the outside is sometimes neglected. Choosing to paint your garden room in an attractive colour will make it stand out and add to the overall look of your garden.
The exterior walls can also be used as vertical garden space, as can fences or other vertical surfaces. This is a great bonus if you have limited space in your garden. You can use vertical space by adding shelves or hanging planters, which will give you more room to grow plants and make your garden look more interesting.
You can also increase vertical space accessibility with a trellis. If you have a bare wall or fence, adding some trellis can really transform the look of your garden. You can grow climbing plants up the trellis or just use it to support other plants.
7. Add some seating
If you love spending time in your garden, adding some seating will make it more enjoyable. You don't need to spend a lot of money on this, as you can use budget garden ideas like upcycling old furniture or even just using some large cushions.
You can even paint your seating to match any garden buildings you have, adding to the overall ambience of your garden.
A hammock is a great addition to any garden if you have the space. Hammocks are relatively cheap and easy to set up, and they're a great way to relax in your garden.
8. Create a gravel path
Gravel is a very cheap material to use in your garden. If you're considering adding a path or otherwise decorating your garden, gravel can provide the solution. It can also be used to create a border around your garden.
Gravel paths are easy to maintain, and they look great. They're one of the budget garden ideas that will easily enhance the appearance of your garden.
9. Add some water features – Budget garden ideas
As well as being a focal point, water features can also add a calming effect to your garden. There are plenty of budget garden ideas for water features if you're on a budget.
One option is to create a pond by digging a hole and lining it with a liner. This can then be filled with water and plants.
Another option is to use a large container to create a water feature. You can choose any size or shape container and fill it with water and plants.
You could even use an old sink or bathtub to create a budget garden idea water feature. Recycling items like this can make your garden look fantastic and create a talking point for anyone who comes to visit.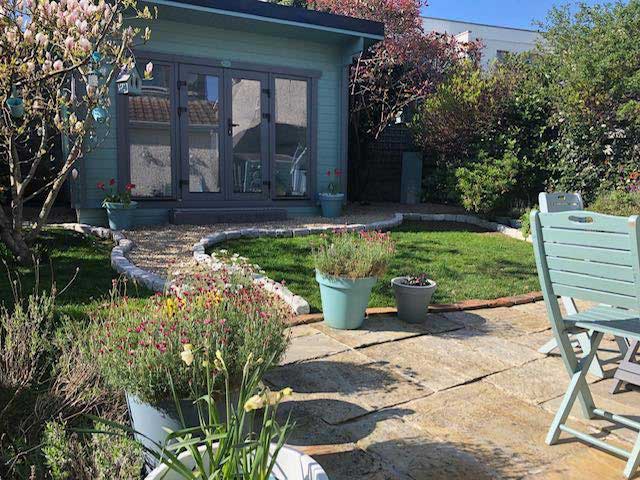 10. Add some raised beds
If you want to grow your own plants, raised beds are a great option. They're also budget-friendly, as you can make them yourself using old pallets or logs.
You can build them to any size or shape you want, and they're easy to maintain. Raised beds also make it easier to control the soil quality, as you can fill them with good-quality soil.
If you want to grow vegetables, raised beds will keep away many pests, improving the return your crop brings.
Budget garden ideas to improve your garden
With these budget garden ideas, you can easily transform your garden on a budget. You can create a garden that you'll love spending time in by making a few simple changes.
When you look at your garden, it should invoke feelings of relaxation and happiness. After all, it is your own little piece of paradise. If it doesn't, then it's time to make some changes. And with these budget garden ideas, you can do just that without breaking the bank.
Related searches: garden makeover ideas, garden ideas for small spaces, very small garden ideas on a budget, large garden ideas, cheap garden ideas no grass, DIY garden ideas for small spaces, simple garden ideas, budget ideas for rooms for gardens
————————————————————-
Summer House Kits are becoming increasingly popular. Wooden summerhouses make a great place to unwind, but how can you create this luxury space ? Check out our latest blog post for details.