Quick Navigation
Upgrade Your Summer Get-A-Way, With A New Loghouse Mobile Home Log Cabin
The summer is always a great period to spend some quality time to spend with your family, and a Staycation is currently the popular choice, due to the COVID-19 pandemic. Rest and relaxation await, and it is just a simple matter of getting to the holiday park or coastal town where your mobile home is situated.
However, visiting your mobile home is not always as much fun as you may have anticipated. It can be surprising how tired looking it is when you arrive, and once you get inside it might not inspire you to relax at all. Upgrading your mobile home to a log cabin may be just the decision you need to make to fully enjoy your Staycation experience.
The Benefits of a Mobile Home Log Cabin
They say that a change is as good as a rest, and a change of scenery can certainly encourage restful feelings for many of us. Heading out somewhere for a break whether it is in a holiday park or a seaside town gives you that change of scenery and takes you away from the hustle and bustle of everyday life.
Of course, for a lot of people this year, everyday life has seen them sitting at home, wondering what is going on in the world. They would love a break, but there might be a lot of work needed to maintain their mobile home once they arrive, and that is not always an enjoyable experience – so what can be done?
A mobile log cabin home is the perfect option for a fresh new look for your mobile home Staycation. Log cabins from Loghouse are environmentally friendly and can be custom designed to fit the space you have available.
Once a mobile home log cabin has been erected, it will require the minimum amount of maintenance to keep it looking great, which is a great bonus for a holiday home. But it is more than just about reducing the work needed – a log cabin mobile is packed full of useful features and can really improve the quality of your holiday.
A log cabin mobile can be connected to mains electricity, water, etc. in the same way as a regular mobile home. This means that any facility you need can be incorporated in the design, including a kitchen, a living room, a bathroom, and one or more bedrooms, which means you'll be lacking nothing while you enjoy your Staycation.
Upgrading your old mobile home to a new mobile home from Loghouse Log Cabins, gives you everything you would expect in a mobile home, but you'll have a lot more control over the finished look of the log cabin, and you'll be able to ensure it is set up in a way that most suits your family.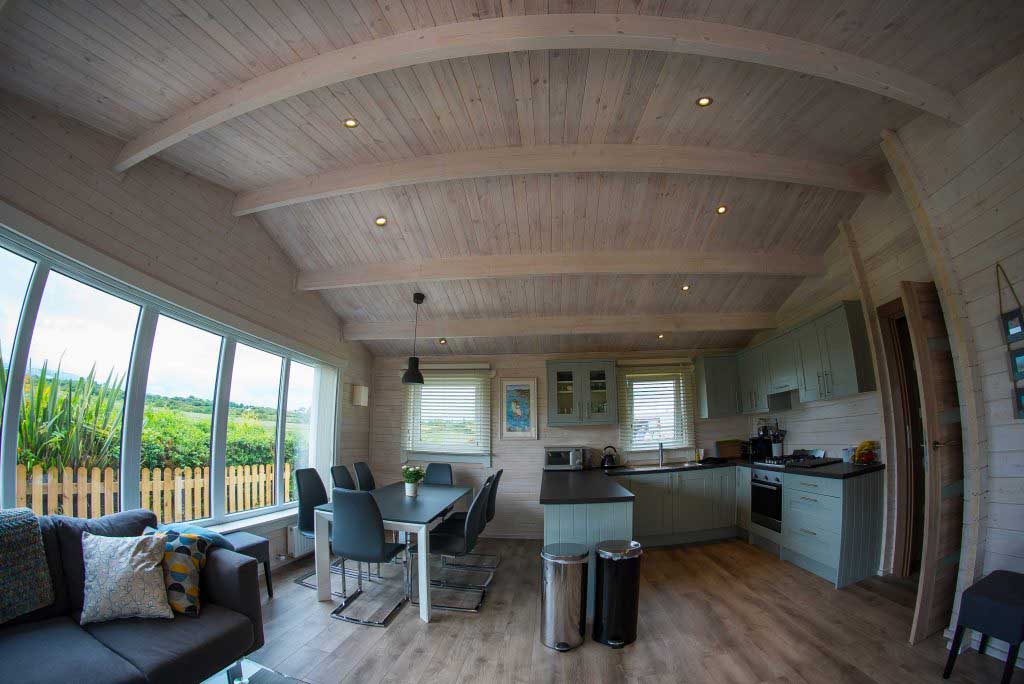 What Does a Mobile Home Log Cabin Look Like?
A range of standard designs are available, and the design team at Loghouse can always work with you to create something special with are Turnkey Log Cabin Packages. That said, the exterior of a mobile home log cabin looks like a modern log cabin and can be painted any colour you choose. The interior design is entirely up to you.
You can decorate the interior of your log cabin mobile in any way you choose. You can aspire to the functional minimalism of a traditional mobile home, or you can reimagine it as a more home-like area. It is an entirely standalone building, so your design choices do not have to tie in with any part of another building, and you will only be limited by the ground space available. You have the complete freedom to decorate and design as you choose.
You can choose any type of floor covering you like as they can be installed as they would be in any room in your home. Further, you can add personal touches and choose the specification of any fixtures or fittings, so if you have previously been underwhelmed by the décor in your mobile home, now is your chance to create something truly memorable.
Finishing touches such as blinds, curtains, pictures on the wall, or anything else you can think of, can simply be included to make your 2020 Staycation one to remember.
To help the Staycation experience become fully enjoyable, the range of rooms that can be built inside your log cabin will allow harmonious living throughout your holiday. You are not limited to just a single living space which means that family members can spread out and have fun.
Staycation 2020 and Beyond
Loghouse log cabins are built to last and come with a 10-year guarantee. This means that 2020 Staycation is just the beginning as your new log cabin will be central to Staycations in years to come.
Your beautiful new Loghouse mobile home will be there again next year, or whenever you choose to use it. It is your cabin, and you can use it whenever you want to for a quick getaway.
The initial cost of the cabin may be a deciding factor for you and replacing your old mobile home might appear to be out of your budget – but you don't have to pay for it all in one go. Log Cabin Finance is available to help spread the cost of having your mobile home log cabin built, and it is a positive investment in your future. And the more you use your mobile home log cabin, the cheaper each holiday becomes!
All the log cabins for sale from Loghouse are built from sustainable pine which not only makes them environmentally friendly but also provides benefits for the building itself. Wood is a breathable material that helps to maintain pleasant temperatures inside your log cabin all year round.
With your own Loghouse mobile, you can take a break whenever you want to. It is a great alternative to the tired and worn mobile home experience you may have become used to, and there's no better time to get a mobile home log cabin than now.
</cente