Quick Navigation
The COVID-19 pandemic has disrupted businesses around the world and has made it exceedingly difficult for some to continue running – indeed, many businesses have ceased trading due to the economic effects of the virus. Fortunately, the internet has provided many people with the opportunity to work from home, or even run an entire business from an eco garden room.
If you previously worked in an office, you can connect with your colleagues and collaborate in a very similar manner as before, but without the need to be in the same room. Similarly, if you run a business that provides yoga classes, martial arts instruction, or fitness coaching, you can do that virtually too. Here are some tips on what you need to broadcast online from your eco garden room.
Getting Online in Your Eco Garden Room
To begin with, you're going to need an internet connection in your eco garden room. This can be achieved in several ways. The simplest way is to head outside and see if your existing wi-fi router provides a strong enough signal to your eco garden room.
The next easiest method is to use your home broadband connection and extend it outdoors with wi-fi signal boosters. You'll get the same service that you receive within your home at almost the same speed.
Alternatively, you can connect a long ethernet cable to your router and connect the other end to your garden office. You will need a second router or hub in the office to allow wi-fi connections, and the speed of the connection may be slightly faster than using wi-fi boosters.
Another option is to use mobile tethering, using your phone connection as a wireless internet point. This can work well if you only need to connect to the internet occasionally, but to run a business from your eco garden room will require one of the previous options to be fully effective.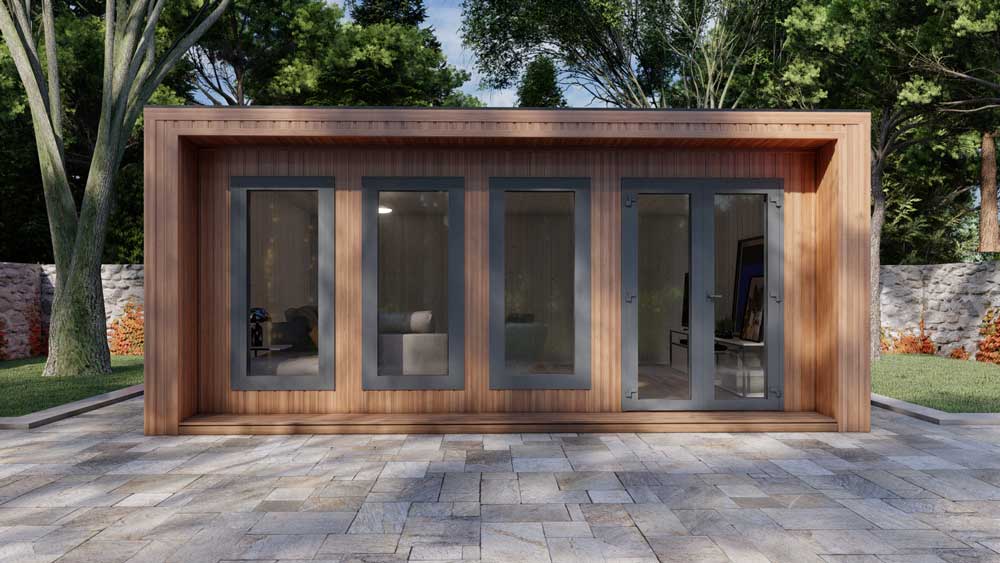 What Hardware Will You Need For Your Eco Garden Room?
To communicate with other people, you will need a microphone and a camera so that they can both hear and see you. You can use a smartphone for many communication methods, and most laptops come with built-in microphones and webcams. However, you may find that even if such devices are integrated, an upgraded model may be more effective.
Webcams can be found cheaply online, and some also include integrated microphones. For a good quality picture, you will need an HD webcam that can run at 720p or preferably 1080p.
Choosing a name which you know is often wise. Cheaper webcams don't always live up to your expectations, and devices such as the Logitech C270 HD Webcam are sufficient for most users.
Where sound quality is important, a separate microphone is an option. Well-known brands are again a good choice and using a pop filter (a small screen in front of the mic) and a "condenser" microphone will help to enhance the sound. Check whether your device has a microphone socket or requires a USB connection before purchasing to make sure your chosen microphone will be compatible with your device.
Choosing The Right Apps For Your Eco Garden Room?
Once you are connected to the internet and have the right hardware, you're going to need to connect to your colleagues or customers. There are multiple options for this, and the number increases almost daily – the key is to find an app you are comfortable with, provides all the facilities you need, and can be used by those you want to talk to.
Here are a few of the most popular collaboration and communication apps and programs.
Zoom
Zoom is a video conferencing app that is available on almost every platform – desktop, laptop, Chromebook, Windows, macOS, iPhone, Android…you name it, there's a Zoom client for it.
Zoom allows you to connect to one or more people, up to 100 people on the free plan. You can view the current speaker in full screen or have a gallery of people all showing at once (the number you can see without scrolling varies depending on your screen size).
Great for hosting webinars, holding meetings, or speaking to a class.
Google Meet
Google Meet is similar to Zoom but with fewer features. The standard free version offers 24-hour long meetings up until at least September 30th, 2020 – after that, it will revert to the pre-COVID 60-minute meeting limit. For comparison, the free Zoom plan offers 45-minute meetings.
Skype
Now owned and operated by Microsoft, Skype is most commonly used for one-to-one conversations by audio or video, but group conversations are also possible. Microsoft also provides Teams, a product similar in functionality to Zoom and Meet, but less well-known.
WhatsApp
Primarily used for text-based chat, WhatsApp also has an audio/video call option that can accommodate groups. This functionality works on both smartphones and computers (via a web browser or dedicated app).
Facebook Messenger
Similar to WhatsApp, primarily used for text chat, group video calls are an option. Many people use Messenger every day, and so it may be of use for running a class for those who have students that are not "techy" – the chances are, they'll have Messenger installed already.
Honourable Mentions
Other apps and programs are available for video communication including Cisco Webex, GoToMeeting, ClickMeeting, etc. If you are presenting to a class, you can even use YouTube or Facebook live video streaming – just make sure that whatever you choose is available to everyone else in your class or team.
Why Use An Eco Garden Room?
It's a dedicated space for you to work, it's environmentally friendly, and gives you the freedom to work rather than be concerned about what else is going on in your home. No noisy kitchen interruptions, no need to clear a space to work or broadcast from – just a simple solution to help you keep in touch with those you work with and for.
How To Get Your Eco Garden Room
Contact our Loghouse Garden Room Experts to discuss the options available for constructing your own eco garden room home office or studio. Eco garden rooms can be built in a range of sizes and customized to meet your needs, and we're happy to help you find a high-quality solution for your working environment.
Garden Room Finance options are available and quality is guaranteed – contact Loghouse now to find the best way to continue running your business during the COVID-19 pandemic.