Quick Navigation
A garden snooker room is a great investment for your home, and if you have even the slightest interest in playing snooker, you'll appreciate the advantages.
Once there is a snooker table in your home, your friends and family will want to play snooker all the time. The problem is finding a room with enough space, and dealing with the noise when everyone is playing!
You can easily become the host of your own snooker parties or family snooker tournament, and a garden snooker room is an excellent way to do this.
Do You Need a Garden Snooker Room?
Garden snooker rooms are a great way to make your garden more fun and inviting. They can be used as an outdoor space for entertaining guests, and they are the perfect addition to any garden with plenty of space.
You will be able to host more parties and social gatherings, which means you'll be creating new memories with family and friends. Not only that, but it also provides an excellent place for guests to relax while you're getting the BBQ ready.
It's a great way to get the family together for some outdoor fun. Your kids will love it too, and best of all there's no queue to use the table!
On a more practical level, a garden snooker room gives you the space you need for a full-size table. If you're serious about playing, then a full-size table is a must-have piece of equipment. On smaller tables, the angles aren't quite the same, and it's a different playing experience.
For most homes, installing a full-size snooker table is next to impossible indoors. While the table may (just) fit in a room, there won't be enough space to get your cue in place, making it laborious to play.
The next option people consider after eliminating a room in their home is to use a garage, but you'll face the same issues. A double garage might just do it, but you could still experience space issues depending on the actual size of the space, and you lose the ability to do what everyone else does with their garage – use it as storage space for everything but their car!
Furthermore, most garages are drafty and unappealing to look at. A garden snooker room is a perfect solution, so if you're considering buying a snooker table, it's worth thinking about whether or not you have room for one in your garden.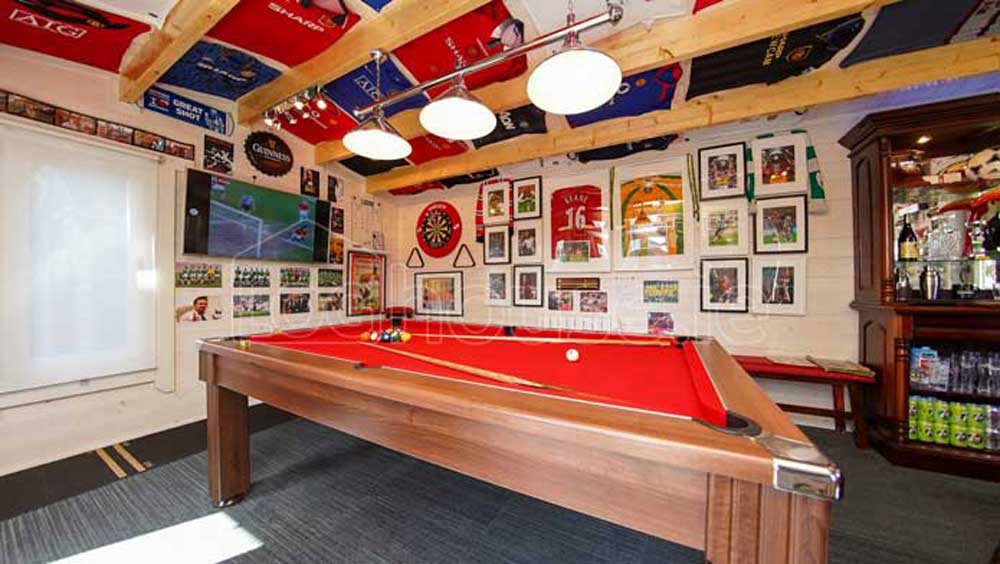 Why Choose a Garden Snooker Room?
In fact, why play snooker at home at all? As recent times have shown us, the world outside isn't always there when we need it – shops, gyms, and pubs can all be closed almost without warning, and many people have seen the benefits of working from home.
Finding your own space to relax at home has also become more of a problem. Being with your family 24/7 can lead to more stress and arguments than expected, especially when there is no option to take a break. Having somewhere to go and relax helps to keep everything running smoothly.
A garden snooker room ticks all these boxes and allows you to spend a little time on your own when you need it. Of course, it's also a great way to spend time with family and friends, but only when you choose to.
The great thing about a garden snooker room is that you can make it look any way you want to. All garden rooms from Loghouse are manufactured and built to a high level of quality and can be decorated inside in any way you choose.
Pick your flooring, your paint (or wallpaper), and everything else that makes it your own personal snooker palace. An added bonus is that your garden snooker room can be connected to the mains supply for electricity and water, which means you can install lighting that allows you to play on into the night.
You'll also have the option of including kitchen and bathroom facilities. Need a coffee or a toilet break? No need to worry, you can take care of it right there in your garden room.
Are You an Aspiring Professional Snooker Player?
Then you'll fully appreciate the need to practice. With good lighting, you'll be able to see exactly what you are doing at all times, and you'll be able to practice specific shots as well as develop a solid cue technique. You'll be ready to take on the best with the hours of practice you'll be able to get in – remember, you can use your garden snooker room at any time of the day or night.
If you're just an amateur player or just enjoy playing snooker for fun, you'll also get the same benefits. You can play a game whenever you want, and you can practice any shot you want, over and over again, until you're happy with how you play. The next time you take on your friends, they could be in for a big surprise!
A Garden Snooker Room From Loghouse
At Loghouse, we know how important it is for people to have their own personal space where they can escape from the world for a while, and we know the importance of having a dedicated space for particular tasks.
That's why we believe our garden snooker room is a great choice for everyone. As with all Loghouse buildings, there's a 10-year structural guarantee included, so you can be sure that your investment is worthwhile.
If you need help in choosing the right room, we have an expert team on hand who will be happy to guide you through the process step by step. We even offer a custom design service to make certain that you get exactly what you need, and you'll find that our garden rooms are always of the highest quality. Our attention to detail and excellent level of log cabin customer service is second to none.
You can have your perfect outdoor space installed quickly, and then the fun can begin in your garden snooker room.